7 December 2022
International Food Days 2023 – Your Official Guide

You probably don't need another excuse to treat yourself to gourmet food.
However, it would be rude not to celebrate if the entire world is, right?
Whether your favourite food is bacon or lamingtons, we've put together the latest update to our international food days calendar, so you will know the official dates to indulge!
As we are based in Australia, we've included national food days as well as a few more exotic selections from around the world.
Bookmark this page so you won't miss out. The following are all official dates observed around the world.
Need help finding the right food to celebrate or want to share the day with a friend, why not send a gift basket?
Skip to: January, February, March, April, May, June, July, August, September, October, November, December.
January: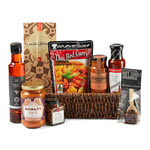 People have been using hot spices in recipes worldwide for thousands of years.
Cayenne pepper, for example, is a staple spice used in Thai, Cajun, Russian and Tex Mex cuisines.
This red-hot day honours the world's chilli heads, heat-loving gourmands and daredevils. Test just how much heat your taste-buds can handle!
Bring a little spice into your life with this hot gift basket or view our full range of chilli products.
Whether you're a sucker for sweet, savory or sauce-filled pies, pie day ensures everyone has a good excuse to indulge.
The annual celebration started in Colorado in the mid 70's, when engineer Charlie Papazian declared his own birthday to be National Pie Day. The American Pie Council later sponsored the day in 1986, but everyone can celebrate worldwide.
January 23rd is also International Sticky Toffee Pudding Day in honour of the classic British dessert.
February:
World Nutella Day was first celebrated in 2007 thanks to food blogger, Sara Rosso's love for the product. Fans embraced the day as the perfect excuse to down a tub of their favourite hazelnut spread. It has been a global phenomenon since.
We can 'nut tella' you enough how much this day means to us, raise your tubs to world Nutella day!
In pizza we crust! The delicious creation that we can always trust to cheer us up.
Pizza Day made its way into the stomachs and hearts of pizza lovers in Italy in the 10th century.
Fun fact:  Italian Queen Margarita of Savoy, visited Naples on a royal visit in 1889. Two chefs presented her with a pizza resembling the colours of the Italian flag, red (tomato), white (mozzarella and green (basil). They coined it, Pizza Margherita. That sure explains why the margarita is the queen of all pizzas.
Like we need an excuse to drink wine around here 😉 However it would be rude not to partake in the annual global celebrations for Global Drink Wine Day! To celebrate such an important day of the year we have put together a list of our favourite gifts for wine lovers.
For many food lovers, nothing beats the smell of freshly baked bread.
Bake your own loaf or visit your local bakery for their best dough. Pair with your favourite honey, jam or other condiments.
Pancake Day, also known as Shrove Tuesday or 'Fat Tuesday', is a moveable date determined by Easter.
It's celebrated 47 days before Easter Sunday to encourage families to clear out the cupboard and use up items such as eggs, milk and sugar before Lent.
Stock up on lemons, sugar, chocolate fondue spread and bananas.
March:
Created to promote plant-based vegetarian and vegan diets, Plant Power Day aims to help everyday people add plant-based foods to their diets.
Carnivores can keep their meat-eating habits. However, the international day encourages healthier options.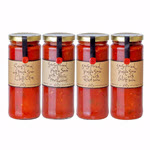 Whether you grind, mix, fry or bake your meatballs, National Meatball Day is the day to celebrate the little orbs of deliciousness.
Fun fact: Meatballs were originally created in China around the 2nd century. However, almost every culture has adopted some form of meatballs today. Love spaghetti and meatballs? This famous dish was an Italian-American invention. Try it with our selection of pasta sauces.
It's important to teach kids the value of good food and International School Meals Day does just that.
There's a valuable connection between healthy eating, education and better learning. To get involved, encourage your school to run a nutritional meal program or get the kids in the kitchen with you to prep a delicious, healthy school lunch.
Every year on the 21st of March, Tiramisu lovers from around the world celebrate International Tiramisu Day, so how could the JITG team not get onboard for that? The day was created in 2017 by food writers and journalists Clara and Gigi Padovani.
Let's be honest, waffles are just pancakes with abs.
Abs that perfectly hold delicious maple syrup.
Waffle day was first celebrated in Sweden, which also marks the first day of spring. And since spring is the season of new life, and what better way to celebrate life than eating more waffles than usual.
April:
It may not be the most exciting of snacks, but carrots are the favourite food of rabbits and a great source of vitamin C. No doubt you were reminded as a child to eat your carrots, so you can see in the dark too.
Sweeten with Just in Time Gourmet's selection of honey flavours.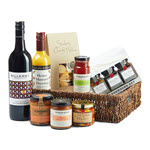 This cheesy holiday was originally tied to a North American restaurant – The Melting Pot which pays homage to dipping, dunking, twirling and swirling various cheese types yearly.
Celebrate by hosting your own cheese fondue party or grab one of these cheesy hampers.
May:
In case you needed an excuse to eat anything you wanted… Eat What You Want Day gives you a break from your regular diet.
The day is a national event in the US, but we urge everyone to celebrate! Indulge in your favourite comfort food or splurge on the treats you miss. If it's edible, it's yours!
If hummus is where your heart is, then put this date in your diary.
Heck, set a reminder! On international hummus day you can enjoy hummus for breakfast lunch and dinner.
The famous hamburger originated from Hamburg, Germany and has moved its way into the stomachs of many worldwide.
Celebrate the day with a big hamburger, paired with your favourite cold beer beverage, of course.
Fun fact: The first hamburgers were eaten as far back as 1885, when they were typically served between two slices of bread. Oh, how they have evolved.
June:
Calling all the gin lovers out there, if this day is not on your calendar yet, add it now! World Gin Day is celebrated every year on the 2nd Saturday of June and it's not to be missed. To help celebrate, here are some of our favourite gifts for the gin lover in your life (or for you!).
Traditional Japanese sushi consisted of fish and vegetables wrapped in vinegar-soaked rice.
This International Sushi Day, explore the different types of sushi available or get creative in the kitchen with a sushi-starter kit and make your own. Whichever way you roll, there's sushi for all tastes.
In support of bowel cancer, eat an apple or two.
Apples, both red and green, are a nutritious source of dietary fibre recommended for a healthier diet. Get involved for a good cause and see what recipes you can create.
July: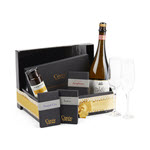 Nothing like World Chocolate Day to feast on an all-chocolate hamper!
The annual celebrations have been going strong since 2009, encouraging everyone to consume as much chocolate as they dare.
While we are guilty of consuming chocolate most days of the week, it's nice to know we have one guilt-free day to get choca-a-block on chocolate.
A whole day dedicated to the fabulous fry. Many stores will offer free fries on this day, including Lord of the Fries and McDonalds.
Thanks to Lord Lamington and his love for yellow sponge cake, the popular coconut and chocolate-covered treat was born – and what better way to celebrate than with its own day.
September:
World Salami Day started in 2006 to appreciate the often-overlooked deli meat.
Fun fact: Both the Romans and Greeks cured their meat, so they could store it longer. However, there is no exact origin of the salami sausage.
October:
Taco about a day worth celebrating.
Tacos are the go-to for any dinner party. Serve up a delicious spread of toppings, where everybody can help themselves. This year's national taco day falls on a Sunday, so invite your friends over and get your Mexican on.  Please note: It's not a Mexican dinner party without margaritas.
Beer and pizza, the perfect match. In Egypt, beer was the favourite drink of the slaves building pyramids for the calories and protein, and pizza dates back to 997 AD in Italy. Thousands of years later, the foods are paired and celebrated every beer and pizza day.
World Porridge Day was first held in 2009 in Scotland to aid starving children.
A daily mug of porridge is given out by the charity Mary's Meals for chronically hungry children. This year, why not hold a porridge charity event?
World Food Day was organised to bring awareness to the impact of development on food production and distribution.
Events are held worldwide to set goals that will eventually lead to building a Zero Hunger Generation. Mark the day by donating food to a charity or raising awareness and eating your favourite foods.
November:
November is vegan month to promote the benefits of a vegan or plant-based diet.
Try switching one of your favourite meals with a vegan or vegetarian meal. Tip: Beyond Meat burger patties are the best substitute for meat burgers.
December:
Cookie day is celebrated worldwide to pay tribute to the deliciously baked treats.
What started off as an American holiday has spread, so everyone has an excuse to consume cookies at any time of the day.
Hope you've had fun with our 2023 world food days calendar. Look out for the updated edition in January 2024. If you want to stock up on your favourite gourmet foods, and live in Australia, check out our online store. We offer free delivery in the Perth metro area.
What's your favourite World Food Day? Let us know below!