12 March 2019
Sweet Treats for the Perfect Mother's Day High Tea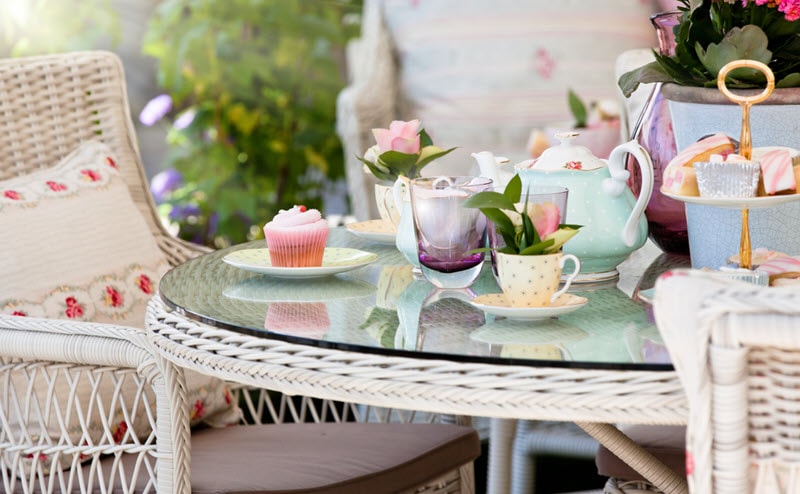 Mother's Day is fast approaching and what better way to celebrate than with a stylish afternoon or high tea.
Though the terms afternoon tea and high tea are used interchangeably, a traditional English high tea is a more formal affair, with guests served at a table with high backed dining chairs.
Whether you opt for a more relaxed afternoon tea setting or get fancy with a formal high tea, why not show your appreciation this Mother's Day with your own 'tea' tradition?
Dust off the china, bring out the bubbles, pop on the kettle and start preparing these delicious treats for a DIY high tea
Mini Melting Moments
Sweet biscuits are a high tea staple.
Melt mum's heart this Mother's Day with mini raspberry melting moments. Start them the day before your high tea (up to step two). Or, if you have basic baking skills, they're easy enough to make on the day. Allow half an hour.
Classic Scones
Another essential component of high tea, scones are deliciously filling and pair perfectly with a fresh pot of tea or a glass of bubbles.
If you're looking for a creamier alternative, this recipe has a secret ingredient to put a spin on an old favourite. Serve hot from the oven with a jar of mum's favourite jam. Offer extra butter and whipped cream on the side.
Lemon and Passionfruit Meringue Tarts
Include fruity flavours to tiered high tea platters with this treat.
Tart lovers will enjoy these passionfruit-infused goodies. Tiny lemon tarts with a hint of passionfruit (the juice of two passionfruit combined with lemon curd). Get the recipe here or take your tarts to the next level with a meringue topping.
Keep the tarts small. Sweets should be no more than a few mouthfuls and easy to eat for the best high tea experience. Use a mini-muffin tray to get the size just right.
Hazelnut Meringue Layer Cakes
Because a special occasion deserves layers of cake!
Dive into these nutty, chocolate layers this Mother's Day. They come with a kick of coffee and buttercream as well. Although this recipe takes over an hour, it's a worthwhile inclusion to impress mum – especially if she's a mocha-lover.
Blood Orange Tart
There's something spectacular about the combination of chocolate and orange.
Add blood oranges to the mix and the flavour only becomes richer and more vibrant. To get those tastebuds dancing, bake these blood orange tarts and serve with chocolate.
5-Ingredient Tim-Tamington Slice
Grab a chocolate cake packet mix and add a few extra ingredients to create a one-of-the-kind chocolate extravaganza.
This slice combines the best from Tim-Tams and lamingtons – extra chocolatey for Mother's Day. Grab the recipe from Taste and allow 20 minutes of prep time.
Pear Muffins
Muffins and scones are the ultimate high tea snacks.
To break up the chocolate treats, add some fruity pear muffins to the table.
This is an easy recipe from Olive. You can achieve the muffin top by buttering and using muffin holes instead of paper cases, but both will taste delicious.
Pink Rhubarb Shortcakes
If the vibrant pink is anything to go by, this recipe will be a crowd pleaser.
Usually filled with strawberries, these pink rhubarb shortcakes are a great British twist to serve at high tea.
Any-Flavour Friands
Pairing perfectly with a hot cuppa tea or bubbles, friands can also be made gluten-free or vegan depending on dietary requirements of guests.
Get inspired with these recipes or get creative and bake your own, special Mother's Day version.
Chocolate Croissants
Whether you're doing a chocolate Mother's Day high tea or a selection of different sweets, it's hard to go past a good chocolate croissant.
This recipe only uses three readily available ingredients. Allow 20 minutes to bake and a whole afternoon to enjoy.
Mushroom Sherry Tarts
High teas usually have a variety of fingers foods presented on tiered platters. Although we have only focused on sweets, these mushroom sherry tarts are a sweet and savoury treat not to be missed.
The combination gets a German touch, with butter, cream, lemon and egg. You can also use bought puff pastry to keep baking simple if you have your hands full with other high tea preparations.
Do you have any afternoon or high tea favourite recipes you enjoy making (or eating!)? Let us know in the comments below! Contact us for our selection of sweet and savoury treats for your Mother's Day high tea.