7 September 2017
11 Ways to Celebrate International Coffee Day in Perth
If you head over to our World Food Days Calendar for 2017, you'll see October 1st marks International Coffee Day! If you're a big fan of deliciously fresh brewed coffee, then this is the day for you. From Friday, September 29th through to Sunday, October 1st, coffee lovers from around the world will be celebrating all things coffee.
International Coffee Day is a global celebration to honour the men and women who work hard to make the coffee we love. For many of us, coffee is such a staple part of our day-to-day lives. It gives us a boost of energy and helps us focus on the tasks at hand.
So how can you celebrate such an important day you may ask? Maybe you're looking for the best coffee gifts to get your friends. Or hoping to find somewhere you can meet up and share a barista made coffee together.
We have put together a list of 11 great ways you can get involved and celebrate International Coffee Day!
1. Make A Coffee Date with A Friend or Family Member
Any excuse is a perfect excuse to catch up with friends or family members for a chat and coffee. But there's no better excuse than catching up for a coffee to celebrate International Coffee Day!
If you are planning on meeting up at a coffee shop, look for one that is located between you and the people you want to come along. Maybe your favourite local barista, or maybe a barista you love to visit on special occasions. You could even buy some delicious fancy coffee and invite your friends and family round for a Sunday coffee and catch-up. I'm sure there will be a lot to talk about, not just how yummy the coffee is!
2. Try A New Blend
We all have our favourite, go-to coffee and will usually stick to it for months on end. But why not try something different in celebration of International Coffee Day?
In preparation, have a look in-store or online now for different blends or brands of coffee, away from your usual choice. Then come the 1st of October, brew yourself one of the new and different flavours you have chosen and see what it's like. You never know, it might become your new favourite!
3. Treat Your Friend or Loved One with A Caffeine Addiction Gift Box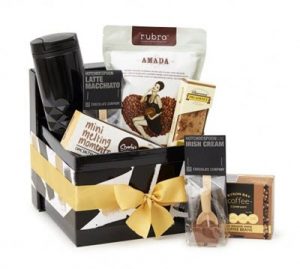 Have you got a friend or family member who's just like you, an absolute coffee addict? Why not surprise them with a Caffeine Addiction Gift Box from Just In Time Gourmet!
They won't see it coming. Invite them round to your house for a coffee, or even better yet meet them at a coffee shop and surprise them with a coffee gift box full of delicious treats! You'll be sure to make a lasting impression and put a big smile on their face.
The indulgent gift box includes:
Rubra Coffee Beans
Byron Bay Choc Coated Coffee Beans
Chocolate Company latte macchiato choc spoon
And many more delicious goodies!
4. Upgrade Your Coffee Machine
Let's face it, coffee is very expensive to buy from baristas in Perth, especially if you drink coffee daily. International Coffee Day is the perfect time to upgrade your coffee machine or maybe even purchase some new fancy coffee cups. Once you've got your nice new coffee machine, make sure to stock up on some of your favourite coffee beans.
5. Learn and Enjoy a Fika
You might be wondering to yourself "What on earth is a Fika?". Well, Fika is a cherished Swedish tradition which refers to a twice-daily coffee break. It can be enjoyed by yourself or with a group and usually includes delicious baked goods to accompany your coffee. What makes it so special is its tradition and idea of slowing down briefly to appreciate life's small joys. Why not learn more about Fika.
6. Indulge in Some Coffee Inspired Food
When you mix coffee with chocolate, something special happens, and the results are delicious!
While you're sipping on your freshly brewed coffee, why not have some naughty coffee infused snacks as well. Byron Bay Chocolate Coated Coffee Beans come in a range of flavours sure to fill a sweet sized hole in your heart. Or maybe an indulgent Chocolate Co Latte Macchiatto White Chocolate Spoon will give you that sweet hit you've been craving. These delicious coffee treats also make a great gift!
If you're a fantastic cook (or even if you're not), why not try and create your own delicious coffee inspired treats. Why not try this Cappuccino Muffins Recipe, they'd go great while sipping on a coffee with a few of your friends. Your imagination is the only limit when it comes to what you can create.
7. Head Along to A Yahava Tasting Event
By now, you've likely tried many different blends of coffee and picked your all-time favourite. Or maybe you've only just begun to appreciate the benefits and taste of coffee and you're looking to find your favourite type. Either way, you should head along to a Yahava Tasting Bench Event.
Get together with a bunch of your friends or family members and book a free Yahava coffee tasting for the International Coffee Day weekend. Explore the wide range of different coffee flavours and blends available and make notes about the different sensations you get from drinking each one. The professional and experienced staff will be able to find your perfect coffee match.
8. Try Your Hand at Creating Some Amazing Coffee Foam Art
Although creating coffee art does take some skill and practice, once you get it right, you can create some truly amazing art. Have you ever tried making coffee foam art before?
Invite some friends over to your house and froth some milk to top your coffee and see who can make the best coffee art. Have a few rounds, and each round score each other on how well they went. At the end, add up the scores and decide who is the winner. Maybe pick one of Just In Time Gourmet's coffee products to award the winner.
9. Enjoy Some Coffee Inspired Cocktails
Weekends are a perfect time to have a few delicious coffee inspired cocktails. Gather up a group of your friends and head out to one of Perth City's many amazing cocktail bars. Sample some of their delicious coffee infused cocktail creations like an Expresso Martini or Black Russian.
Fancy creating some of your own? Most cocktails can be infused with the delicious coffee flavour by adding some Kahlua Coffee Liqueur. Have a look online for some coffee cocktail recipes and print off any that you want to try. Invite your friends to an event over the International Coffee Day weekend and get each person to bring a different ingredient. Then you can take it in turns creating cocktails for each of your friends.
10. Pamper Your Entire Body with Coffee
Coffee is not just for consuming you know. Here at Just In Time Gourmet we stock the amazing Joe Buff Body Scrubs. We have two types, the 'Chocolate Mint Coffee' and 'Orange Truffle Coffee' – what a way to pamper yourself from head to toe with coffee. We hear they are the perfect 'pick me up' for those on the go!
11. Enjoy a Delicious Cup of Your Favourite Coffee
Celebrating International Coffee Day doesn't need to be complicated. Why not just relax at home with a fresh cup of your favourite coffee. Upload a picture to social media with the tag #InternationalCoffeeDay to join in on the celebration. Sometimes, nothing beats enjoying a nice day at home relaxing with the coffee you know and love!
"Byron Bay Coffee Company celebrates coffee each and every day but on one day of the year we raise a cup to toast our global coffee family. International Coffee Day recognises and promotes the entire coffee story, from bean to cup and everything in between. We will mark the day with a delicious Organic espresso at our roastery overlooking the hills behind Byron Bay" – Beth from Byron Bay Coffee Company
Check out some of our coffee products here or any of our other yummy gourmet products perfect to celebrate International Coffee Day here.